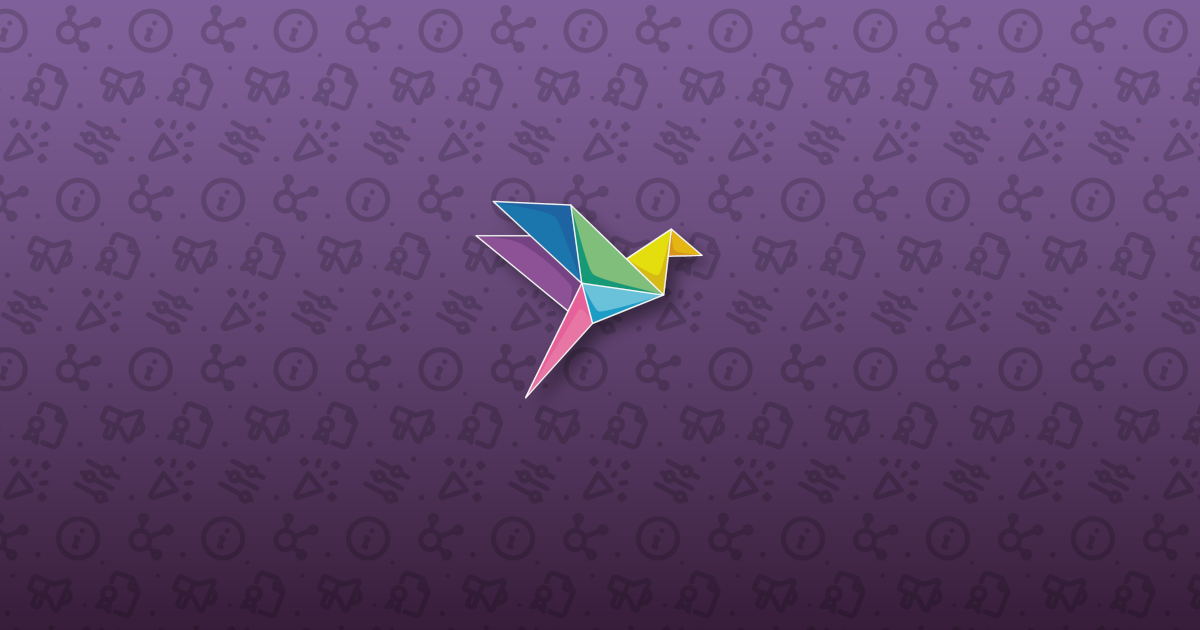 Meetings, tee-shirts and important information
Concerning the DoH service and our infrastructure
Hello !
Some news about our latest activities.
🔗Feedbacks on the Parinux Install Party at 42
We organized an Install Party at 42 on October 26th with Parinux.
Everything went wonderfully well even though the day was particularly busy (we were holding a booth at the same time).
We get positive feedback from many students, which motivates us a lot to repeat the event soon.
🔗Our presence at meetings
We will travel a little bit to introduce ourselves to the librists, the public we need most to help us raise awareness to students.
🔗Capitol of the Free Software
We will be present (Neil and Brume) at Capitole du Libre in Toulouse on 16 and 17 November to keep the booth of the association 42l and hold a conference ("A student CHATONS at school 42", on Sunday from 11h30 to 12h30, in french).
In this conference, we will introduce the environment in which our association operates, the challenges we face and what we plan to organize over the next year.
🔗Ubuntu Party
We will hold a booth at the Ubuntu Party, exactly on the same dates as the Capitole du Libre. This is possible thanks to all the volunteers who help us to organize our activities within the association.
You will therefore meet on site several volunteers and actors of the 42l associative life, who will be able to talk to you about the issues we are defending.
🔗Paris Open Source Summit
We will also have a booth among the Free Software associations at Paris Open Source Summit (booth A15, shared with our friends from Picasoft), on 10 and 11 December 2019.
This will be an excellent opportunity to meet and exchange with the other actors of the free software industry.
🔗T-shirts !! Goodies !!
Since awareness and communication go hand in hand, we have decided to have some goodies made in the image of our association. This includes:
500 business cards double-sided;
A promotional canvas (PVC, 1.80m x 1.00 m) with the logo and name of our association;
25 tee-shirts "logo" (digital printing) with the logo of our association on the heart, which we reserve for members for 10 euros ;
60 tee-shirts "constellation" (A3 silkscreen printing, one color) with a design entirely made by Brume under CC-BY license. We will sell these T-shirts on our stands, for everyone, for 15 euros, as well as on En Vente Libre for the same price.
We will soon put the design of these t-shirts online.
🔗Important information about our infrastructure
We thought until then that we were hosted by Zayo France, which hosts Netrix, which hosts the Proxgroup association (to which we are customers).
Last month, we were asked about the jurisdiction applicable to our infrastructure. Indeed, since Zayo is an American company (and Zayo France is their subsidiary), it was a question of whether we were subject to the American jurisdiction through the Cloud Act and the Patriot Act, which would have endangered the privacy of our users.
We therefore carried out several research studies and in order to clarify the situation, we directly requested information from a member of the Proxgroup association. Here is his answer: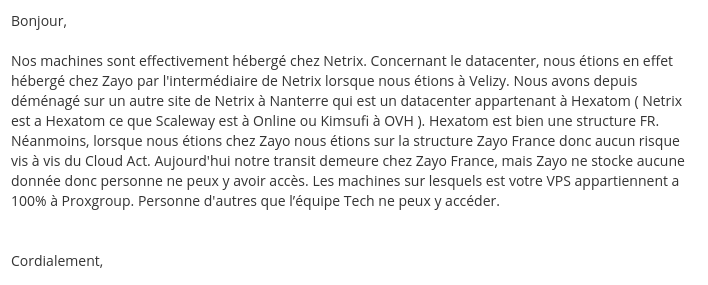 Without being able to confirm with certainty the information concerning the Cloud Act and Zayo France, we can at least deduce this:
We are tenants at Proxgroup association (FR), Proxgroup is a tenant at Netrix SAS (FR) and Netrix is a tenant at Hexatom (FR) which owns the datacenters.
The jurisdiction of our infrastructure is therefore French from start to finish, which removes our doubts about this detail to which we should have paid more attention.
🔗Important information about our DoH Proxy
We are facing increasing natural traffic on our DoH proxy. As this traffic has become increasingly important, we have had to increase our ability to respond to the DoH requests we receive.
To do this, we decided to use other DNS resolvers along with those of FDN based on other members of the FDN Federation.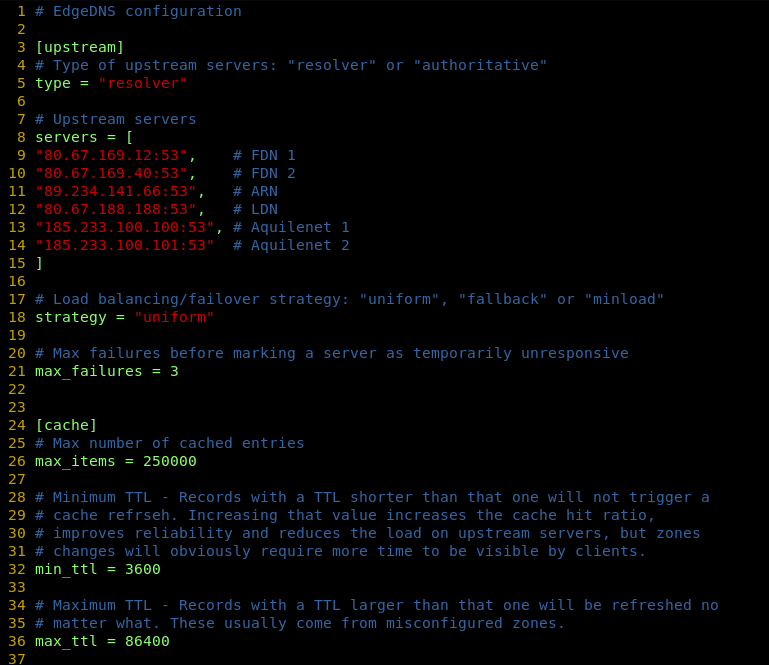 We now use 6 different resolvers, from French Data Network, Aquilenet, Alsace Réseau Neutre and Lorraine Data Network. All these resolvers are maintained by associative Internet service providers who work for the neutrality of the Internet.
This not only allows us to distribute traffic according to the load, but also to further blur the tracks: the personal data contained in the processed DNS requests is decentralized between resolvers.
Finally, we have increased the minimum TTL to one hour in order to maximize the efficiency of the cache, to the detriment of its updating. We won't go up for more than an hour. If you want to test / experiment on your DNS and use our proxy, remember to temporarily disable it so as not to distort your results.
So, thank you for your support and see you soon!
~ N&B
English translation by Fabien.